Small Business Procurement Luncheon

Noon - 1:30 pm
Room: Cyrpress
Ticket Required
Moderator: Roger Campos
Assistant Secretary
Maryland Department of Housing & Community Development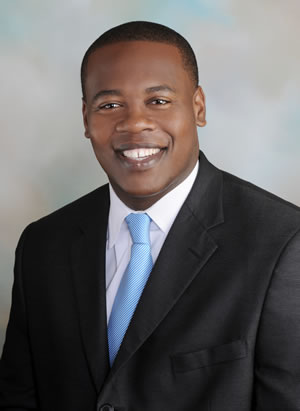 Anthony Daniels
Alabama State House of Representatives
House Minority Leader

Anthony Daniels was supposed to be an athlete. And then a physical therapist. And then a teacher. But instead, he's making Alabama history as the state'sfirst African American House minority leader,and also as the youngest House minority leader in Alabama history.
Daniels, a Democrat, credits "perfect timing" in part to his elevation in the state house, but the 34-year-old has a rich history of turning trials in his life to accomplishments.
At 6-foot-3 in the seventh grade, Daniels naturally became a high school basketball star, playing alongside a young Amar'e Stoudemire, who went on to play in the NBA. And when an ACL injury sent him to a physical therapist, Daniels decided after just one day that he could come up with a better regime to get him back on his feet — literally. Thus began his dream of becoming of a physical therapist.
His mission in the state House — and as its minority leader — is certainly indicative that reputation would be accurate. Instead of championing legislation on particularly divisive issues, Daniels said his goal is to better people and his state with what he calls his "common sense politics."
"What I do in the legislature, I touch and talk to every member that is present every week, check on members of their families," Daniels said. "I'm honest with them."
Daniels, named the 2015 "Legislator of the Year," continued:
"And my motto has always been identifying areas of common ground, that people help themselves and promote the betterment of all human beings, rich or poor, but most importantly what helps Alabama and moves Alabama forward. That's what I've always been about. I don't waste my time on silly pieces of legislation that does not create any jobs but is divisive; I don't waste my time on those pieces of legislation. Issues like marriage equality and other issues have already been settled at the federal level so the only way that those issues will be brought up is if somebody is trying to play politics, and I call them out if they do."
Jimmy H. Rhee
Maryland Governors Office
Special Secretary of Small, Minority, & Women Business Affairs

Special Secretary of Small, Minority, and Women Business Affairs since June 1, 2017. Special Secretary of Minority Affairs, January 21, 2015 to June 1, 2017.
Member, Commerce Subcabinet, 2015-; Maryland Subcabinet for Public-Private Partnerships, 2015-. Chair, Interdepartmental Advisory Committee on Small, Minority, & Women Business Affairs, 2017- (chair, interdepartmental advisory committee for minority affairs, 2015-17). Member, Procurement Advisory Council, 2015-; Council for the Procurement of Health, Educational and Social Services, 2015-; Task Force to Study Small and Minority Design Firm Participation in State Procurement, 2015-16; Governor's Commission on Small Business, 2015-; Mayor's Council on Minority and Women-Owned Business Enterprises, Baltimore City, 2015-; Commission to Modernize State Procurement, 2016. Chair, Task Force to Investigate the Challenges of and Opportunities for Minorities in Business, 2016-.
Assistant Secretary of Commerce and Trade, Virginia, 2010-14. Member, Governor's Interagency Energy Board, 2010-14. Chair, Asian Advisory Board, 2010-14, and Latino Advisory Board, 2010-14, Virginia.
Member, Governor-elect's Transition Team, 2014-15.
Born in Seoul, South Korea, August 3, 1956. University of Maryland, College Park, B.S. (management studies), 1981; Carey Business School, The Johns Hopkins University, M.A.S., 1992, M.B.A. 2005. Certificate, Electronic Systems Design, U.S. Army Corps of Engineers. Professional Certificate, Sustainable Energy Conversion and Storage, Stanford University. Investment Manager, Cleverlearn, Inc., 1999-2003. Chief Executive Officer and Chief Operating Officer, Global Technology Systems Consortium, Inc., 2003-09. Consultant and advisor, Adjoiner Corp., 2009-10. Strategic Advisor, The Livingston Group, 2014. Partner, EIGC Holdings, 2014. Member, Diversity Advisory Committee, George Mason University, 2001. Founding member, Asian Information Technology Business CEO Organization, 2005-. Board of Directors, School for Future, 2007-09. Co-founder, Asians in Energy, Environment, and Commerce, 2008- (board of directors). Board of Directors, Fairfax County Symphony Orchestra, 2010-12; Montero Medical Missions, 2012-. Korean Presidential Medal, President of South Korea, 2012. Married.